---
News, Thoughts and Opinions
From a Dining Table Across the Sea
NEWSLETTERS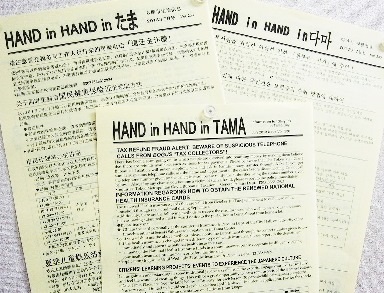 HAND in HAND in TAMA contains information necessary for daily life of foreigners living in Tama City.
For details,
click here
=

LATEST NEWS AND INFORMATION

=
NEW YEAR PARTY 2020

foreign participants are invited!
Free admission.
Please join us! There will be performances and refreshments. Hope you come and enjoy the party.
Date/Time: Saturday, January 18, 2020 1:30pm~
Place: Dai-1 Kaigishitsu, 4F, Parthenon Tama (5-min. walk from Tama Center Station)

Application/inquiries: Appy to TIC Office (Foreign Language Seminar Division) Tel. 042-355-2118
For further details, please refer to the flyer (FriendlyNews Dec. issue)
---
YEAR-END AND NEW YEAR HOLIDAYS !*
TIC Office will be closed from Saturday, December 28, 2019 to Saturday, January 4, 2020.
Happy Holidays to all!
*

*

*

*

*

*

*
---
NIHONGO SPEECH CONTEST in TAMA
by FOREIGNERS

Participants wanted!
The Tokyo Olympic and Paralympic Games will be held next year, 2020. Share you thoughts on sports by joining this speech contest.
Date/Time: Saturday, November 30, 2019
Venue: Sekido Public Hall (7F VITA) *2-min. walk from Keio Line Seisekisakuragaoka Station

TOP WINNERS will receive prizes!
(1st place: 20,000 yen, 2nd place: 15,000 yen, 3rd place: 10,000 yen)
(Consolation prizes will be awarded to other contestants)
Please refer to flyer for details on how to join⇒ speech_chirashi.pdf
■JAPANESE LANGUAGE CLASSES FOR FOREIGN NATIONALS!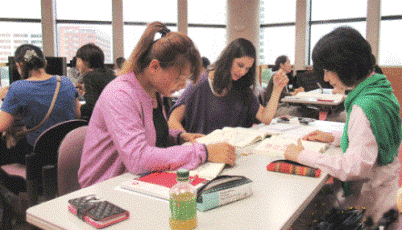 Anyone can study Japanese at TIC Japanese Class. You can study at your convenient time by selecting from the five classes that we are offering, and you can attend in one or more classes.
For details such as schedule and classrooms, please refer to link below:
■IKEBANA SALON (Japanese-style flower arrangement) for foreigners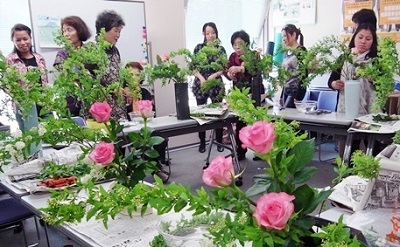 Foreign participants are invited to experience one of the Japanese cultures. Learn the basics of Japanese style flower arrangement, Ikebana.
Date/Time: Every 3rd Wednesday 10:30 am - 12:00nn
Place: Tama City Int'l. Center Room
(7F, VITA Commune, Seiseki Sakuragaoka)
Fee (flower expense included): 1,000 yen/lesson
Those who'll join for the first time or want to take a trial lesson, please apply to TIC Office in advance (Tel. 042-355-2118).
COUNSELING for foreign residents
Need help?.. Consult your worries!
Life advisory and various information on daily living are provided to foreign residents in Tama City.

Day/Time: Every 1st & 3rd Thursdays (except holidays) 1:30 - 4:30pm
Place: TIC Room (7F, VITA Commune, Seiseki Sakuragaoka)

*Appointment is necessary
*Confidentiality is strictly observed.
*Counseling in foreign language is available upon request.
*No telephone counseling service.
Contact TIC Office.
Japanese Language Classes
For details about schedule and classrooms, < click here >
---
Ikebana Salon
Japanese-style flower arrangement for foreigners.
Every 3rd Wednesday of the month.
Please inquire for details.
---
Events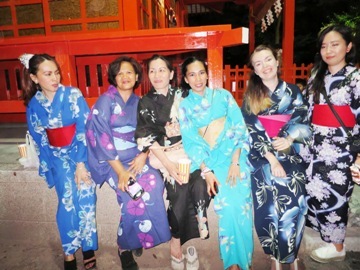 You can take part in many events. Please check the schedule of events in our monthly newsletters, or through this website.
---

Follow us on Twitter,tic_office,follow-us,{"account":"tic_office","label":"follow-us","color":"35ccff","side":"r","top":"136"}